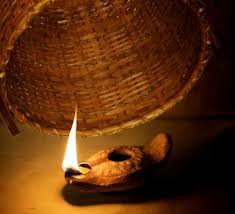 Matthew 5:15-16, 15 Neither do people light a lamp and put it under a bowl. Instead they put it on its stand, and it gives light to everyone in the house. 16 In the same way, let your light shine before others, that they may see your good deeds and glorify your Father in heaven. We can read this parable in all three Gospels of the Bible. The Lord says that we do not light a lamp/candle and put it under a bowl, rather put it on a stand so that its light shines bright. A bowl was a part of measuring utensil in olden days. A liquid was measured using a bowl. It is impossible to measure light using such a bowl. By the parable the Lord is saying that we should not put our talents underneath a bowl/cover but let it shine forth. A candle is enough to drive away darkness from inside a room. A candle or a lamp burns till the candle wick or oil is there. Whereas if kept under a bowl it will die out quickly.
For a candle to burn, or any other thing to burn it needs a source to help it catch fire. To light a candle we need a matchstick, for a light bulb we need a switch. Similarly, for anything to burn and give light it needs a source. John 8:12, 12 When Jesus spoke again to the people, he said, "I am the light of the world. Whoever follows me will never walk in darkness, but will have the light of life." The glow/ radiance within us comes from the light of Jesus. The one which is lighted can help lighten other things/people. A piece of coal when placed near burning embers of coal catches fire easily. If you feel the radiance inside you dying, rush to the Saviour's presence and lighten yourself once again.
We all lament these days about how the dark powers are covering/taking over the world. We forget that we too are part of the world we speak of. Is it enough to lament and weep about the circumstances??? Our Heavenly Father created us in His form like candles in the world to spread light in this dark world. Let us ask ourselves a question: What is our condition now??
We should try to lighten other lives without letting our light dying out. Luke 4:27,27 And there were many in Israel with leprosy in the time of Elisha the prophet, yet not one of them was cleansed—only Naaman the Syrian." In 2 Kings 5, we read about Naaman who was commander of the army of the king of Aram. He was a valiant soldier, but he had leprosy. Then and now people with leprosy are ostracized in society. An Israelite slave girl (name not disclosed) who worked under his wife said to her that if Naaman went to a prophet in Samaria, he would cure his leprosy. Hearing this, Naaman went to prophet Elisha. He said to Naaman, "Go, wash yourself seven times in the Jordan, and your flesh will be restored and you will be cleansed." Naaman follows the instructions and is healed. The young slave girl spread the light and glory of the Lord into Naaman's life. She did not let the radiance within her to die. Psalms 119:105, 105 Your word is a lamp for my feet, a light on my path.
Jesus chose twelve disciples, whereas He transformed only before three of them (Mount of Olives). The disciples were many but only twelve apostles. In the parable of the paralyzed man there is no mention of the names of the four men who lowered him down to be healed by Jesus. Similarly, there is no name of the people who brought the dumb and mute to be healed. We do not know the name of the boy who gave the five loaves and fish to feed thousands. Who are we is not important, it is our acts that make us important. For eg: In an office of ten people, there are two people who work honestly and with dedication. The rest eight would definitely be influenced by the two after some time. It is easy to let the light die out by being in the company of the eight people. If the oil is about to run out when the lamp is burning we can continue it to burn by pouring more oil. If a bulb is fused we can replace it with anew one. If you feel your light dying out, reach to the presence of the Lord and recharge yourself.
Like the candle placed on a stand, those who live in Jesus spread the light in the world. Matthew 20:28, 28 just as the Son of Man did not come to be served, but to serve, and to give his life as a ransom for many."
Proverbs 20:27, 27 The human spirit is the lamp of the Lord that sheds light on one's inmost being.
May the candle/lamp never die out and spread light to the world till the end of time.