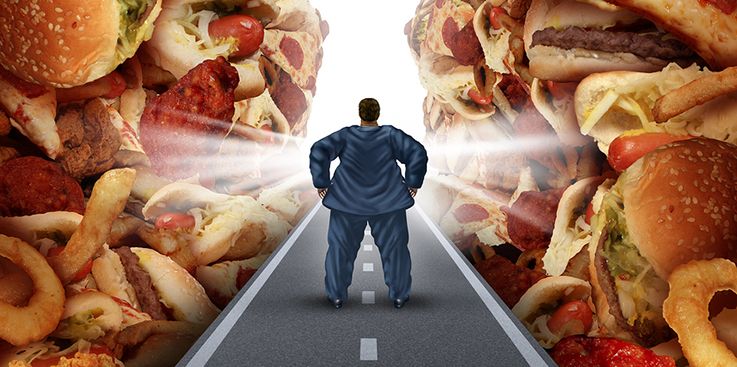 Luke 21:34, 34 "Be careful, or your hearts will be weighed down with carousing, drunkenness and the anxieties of life, and that day will close on you suddenly like a trap.
Our Lord Jesus Christ was prophesying about the events that will happen before His second coming when taking these lines. When we see a fig tree sprout, we say that summer is near. He warns us to be aware of our surroundings and understand the changes around us. He is telling us that the kingdom of God is near. Luke 21:31, 31 Even so, when you see these things happening, you know that the kingdom of God is near.
Luke 21:33, 33 Heaven and earth will pass away, but my words will never pass away. Then the Lord gives a teaching for the people immersed in the pleasures of the world, to beware of the traps waiting for them.
Let us pause and think on three points:
1.Gluttony: Food is one of the basic necessities of a human life. Some eat to able to live, while there are some who live to eat. Lord Jesus Christ says that excessive food should not burden the heart. The desire for excessive food is also related to lust. Satan deceived Eve also through a fruit. Again he tries to trap Jesus Christ right after He ended His fast. Satan tried to tempt Jesus with bread, to weaken His willpower. The Lord has given the option to either control it or let it overpower us. The remedy for this is Matthew 26:41, 41 "Watch and pray so that you will not fall into temptation. The spirit is willing, but the flesh is weak."
To avoid getting addicted to food one should be disciplined from early childhood. For eg: Daniel. Daniel 1:8-9, 8 But Daniel resolved not to defile himself with the royal food and wine, and he asked the chief official for permission not to defile himself this way. 9 Now God had caused the official to show favor and compassion to Daniel,… For this the Lord empowers him. The Bible teaches us the do's and don'ts that apply in our life. Romans 14:17, 17 For the kingdom of God is not a matter of eating and drinking, but of righteousness, peace and joy in the Holy Spirit,…
Let me share a short story. There was once a baby quail who was very fond of food. One day looking for food it came upon the granary of a farm. Seeing so much grain together it forgot itself and made the granary its home. Nonstop eating made it grow to the size of an adult quail. The quail has been blessed by God with the ability to walk and fly which is unlike its cousin the hen. One day when it stepped out a mongoose started to follow it to make it his food. But due to overeating and its excessive weight the quail could not fly to rescue. The poor thing fell prey to the mongoose who feasted on it for many days.
Today many human are in the same condition. Even before reaching middle age they are ridden with several diseases. They are rendered helpless by the prescription from doctors who ask to do away their favourite food. One word to those who cannot control their addiction to food, like the quail do not forget your natural make by the Lord. Hebrews 12:16-17…or is godless like Esau, who for a single meal sold his inheritance rights as the oldest son. 17 Afterward, as you know, when he wanted to inherit this blessing, he was rejected. Even though he sought the blessing with tears, he could not change what he had done.
2.Alcoholism: Some people drink when they are happy, some when they are sad, and then there are others who drink in both states of mind. Yet there are some genius who say it helps relieve the stress of mind and body. There are a few who say it helps in insomnia. But they often forget that alcohol is like a snake that crawls and can harm all body organs on the sly. It not only destroys a person but the family too. We have learnt that the Love of our Lord is more intoxicating than any wine or alcohol in this world. then why do we turn into slaves of Satan and become bonded in the chains of alcoholism???
Proverbs 20:1, Wine is a mocker and beer a brawler, whoever is led astray by them is not wise. Isn't this true???
1 Timothy 3:3, 3 not given to drunkenness, not violent but gentle, not quarrelsome, not a lover of money.
Ephesians 5:18, 18 Do not get drunk on wine, which leads to debauchery. Instead, be filled with the Spirit,…
We have often read in the newspapers and seen in media that the animals who raped innocent babies, infants, girls and even grandmothers were always under the effect of alcohol. One word to those who are addicted to alcohol, the Bible teaches us that our bodies are temple of God. We should not defile it. Then how can the Lord reside in a body that has been polluted by alcohol???
Hosea 4:11,11 to prostitution; old wine and new wine take away their understanding. How true??? Some men under the influence of alcohol are so intoxicated that they are blinded by it and unable to identify their own wives and girls. For eg: Lot and his daughters. When Lot and his daughter fled from Sodom Gomorrah they took refuge in a cave. The daughters served wine to their father and slept with him since there was no other man around to bring forth another generation. This is an incestuous relationship which daughters had without the father being aware of it.
There is just word of advise I'd like to share to the family members of alcoholics. Treat them as patients and get them proper treatment. Only then can we get rid of this disease.
3. Anxieties of Life: Matthew 6:25-34, 25 "Therefore I tell you, do not worry about your life, what you will eat or drink; or about your body, what you will wear. Is not life more than food, and the body more than clothes? 26 Look at the birds of the air; they do not sow or reap or store away in barns, and yet your heavenly Father feeds them. Are you not much more valuable than they? 27 Can any one of you by worrying add a single hour to your life?
28 "And why do you worry about clothes? See how the flowers of the field grow. They do not labor or spin. 29 Yet I tell you that not even Solomon in all his splendor was dressed like one of these. 30 If that is how God clothes the grass of the field, which is here today and tomorrow is thrown into the fire, will he not much more clothe you—you of little faith? 31 So do not worry, saying, 'What shall we eat?' or 'What shall we drink?' or 'What shall we wear?' 32 For the pagans run after all these things, and your heavenly Father knows that you need them. 33 But seek first his kingdom and his righteousness, and all these things will be given to you as well. 34 Therefore do not worry about tomorrow, for tomorrow will worry about itself. Each day has enough trouble of its own.
Ecclesiastes 3:14, 14 I know that everything God does will endure forever; nothing can be added to it and nothing taken from it.
No one among has the power to undo or change what the Lord has done. God had blessed the Israelites with Manna. But they were greedy and always wanted more.
Exodus 16:19-20: 19 Then Moses said to them, "No one is to keep any of it until morning.20 However, some of them paid no attention to Moses; they kept part of it until morning, but it was full of maggots and began to smell."
Man slogs day and night to acquire more and more wealth. But what good is the wealth if it draws you away from the grace of God and is gone in seconds by any natural disaster.
Genesis 12:1, The Lord had said to Abram, "Go from your country, your people and your father's household to the land I will show you. If anyone of us was in father Abraham's place we would not have followed the instructions given with full faith. We would have doubted and worried on being uprooted from a settled life. But Abraham was not deterred by such thoughts. He had full faith and did what the Lord asked. The result was a blessing that even today we are called children of Abraham, generations and generations after the blessing.
St Paul also advises us against all the above mentioned vices, Romans 13:11-14, 11 And do this, understanding the present time: The hour has already come for you to wake up from your slumber, because our salvation is nearer now than when we first believed. 12 The night is nearly over; the day is almost here. So let us put aside the deeds of darkness and put on the armor of light. 13 Let us behave decently, as in the daytime, not in carousing and drunkenness, not in sexual immorality and debauchery, not in dissension and jealousy. 14 Rather, clothe yourselves with the Lord Jesus Christ, and do not think about how to gratify the desires of the flesh.
1 Corinthians 10:11, 11 These things happened to them as examples and were written down as warnings for us, on whom the culmination of the ages has come.
What we act is what we receive. In the second coming of Christ those who acted on the words of the soul will receive the reward for that, and those who acted on the desires and temptations of body will reap its reward. It' s our choice to follow or not to follow the words of God. Think and act, children of God.
Philippians 3:18-20, 18 For, as I have often told you before and now tell you again even with tears, many live as enemies of the cross of Christ. 19 Their destiny is destruction, their god is their stomach, and their glory is in their shame. Their mind is set on earthly things. 20 But our citizenship is in heaven. And we eagerly await a Savior from there, the Lord Jesus Christ,…