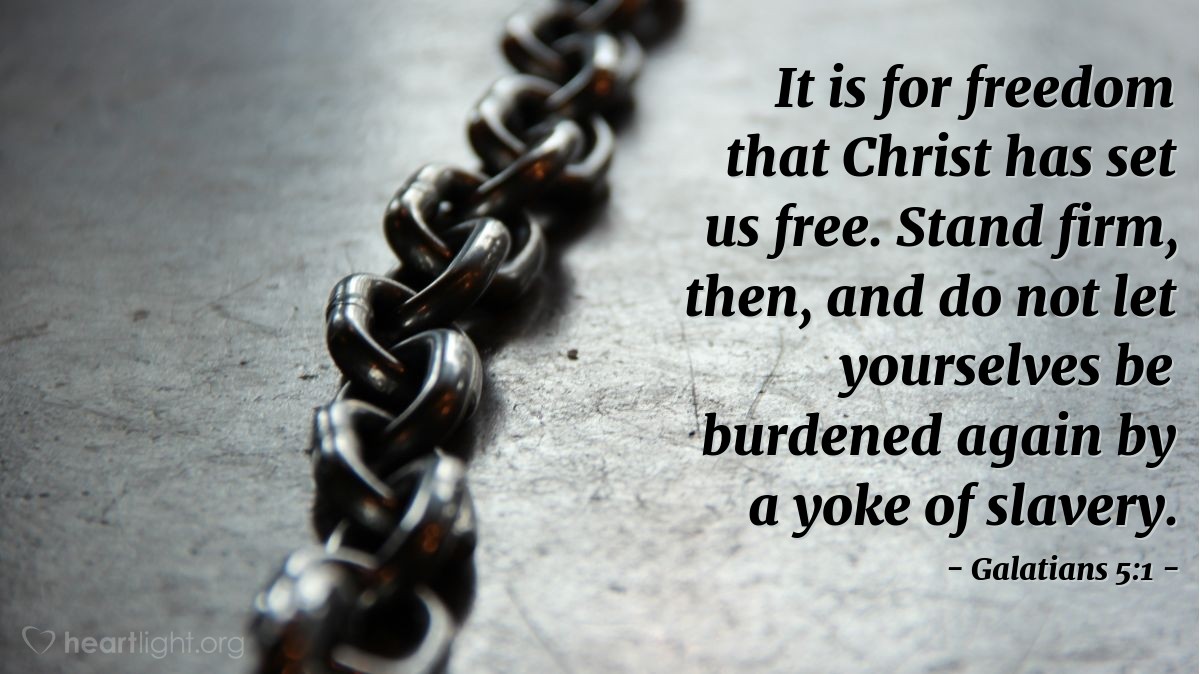 Galatians 5:1, It is for freedom that Christ has set us free. Stand firm, then, and do not let yourselves be burdened again by a yoke of slavery.
How did man lose his freedom? Our Father in heaven had created man and gave him all the freedom. He had asked him only one thing. He forbid man to touch the tree of knowledge. When Eve was alone in the garden of Eden, the serpent approached her. He lured her with the goodness that the fruit of the tree of knowledge would give. The serpent only told her good things about the forbidden fruit. Eve fell for his snare and accepted his words to be of value. She ate the fruit and gave it Adam as well. In this way we lost the freedom we had with the Father in heaven.
1.Freedom: There is no one living on this earth who does not desire freedom. It is a desire that one has since birth. Our Father in heaven is so benevolent and gracious, that He could not leave us, His children in that condition of sin. There is a lot of importance to sin before the Lord. It is because of this that He gave up His only Son as the sacrificial lamb for our sins (John 3:16, 16 For God so loved the world that he gave his one and only Son, that whoever believes in him shall not perish but have eternal life.)
1 John 3:1, See what great love the Father has lavished on us, that we should be called children of God! And that is what we are! The reason the world does not know us is that it did not know him.
1 John 3:8, The one who does what is sinful is of the devil, because the devil has been sinning from the beginning. The reason the Son of God appeared was to destroy the devil's work.
Son of God, Jesus gave up His life on the cross having suffered brutally. In this way He brought us close to the Father. It is through His death that we received the grace of God once again and were transformed again. 2 Corinthians, 3:17-19, 17 Now the Lord is the Spirit, and where the Spirit of the Lord is, there is freedom. 18 And we all, who with unveiled faces contemplate the Lord's glory, are being transformed into his image with ever-increasing glory, which comes from the Lord, who is the Spirit.
2.Stability: Psalm 51:10, Create in me a pure heart, O God,
    and renew a steadfast spirit within me.
The Lord's servant, David prayed to the Father in the above Psalm after having sinned. Malachi 3:6-7, 6 "I the Lord do not change. So you, the descendants of Jacob, are not destroyed. 7 Ever since the time of your ancestors you have turned away from my decrees and have not kept them. Return to me, and I will return to you," says the Lord Almighty. "But you ask, 'How are we to return?'
Isaiah 43:25, 25 "I, even I, am he who blots out
    your transgressions, for my own sake,
    and remembers your sins no more.
Those who keep sinning and fall prey to the snares of the devil, this is what the Bible teaches them: Hebrews 6:4-6, 10, 4 It is impossible for those who have once been enlightened, who have tasted the heavenly gift, who have shared in the Holy Spirit, 5 who have tasted the goodness of the word of God and the powers of the coming age 6 and who have fallen away, to be brought back to repentance. To their loss they are crucifying the Son of God all over again and subjecting him to public disgrace.
10 God is not unjust; he will not forget your work and the love you have shown him as you have helped his people and continue to help them. 
Those who have seen must be remembering this sight. Once you tie a cow/calf to a pole, many a time when you untie it, it does not move. This is because it does not understand its freedom having tied down for so long.
3. Do not let yourselves be burdened again by a yoke of slavery: After repentance do not turn back into sinning. The Lord also does not condemn the sinful woman, He rather asks her to stop sinning. John 8:11, 11 "No one, sir," she said. "Then neither do I condemn you," Jesus declared. "Go now and leave your life of sin."
If the Father in heaven is a loving father then he also has anger like a father who has been wronged. 2 Peter 3:17, 17 Therefore, dear friends, since you have been forewarned, be on your guard so that you may not be carried away by the error of the lawless and fall from your secure position.
2 Peter 2:20, 20 If they have escaped the corruption of the world by knowing our Lord and Savior Jesus Christ and are again entangled in it and are overcome, they are worse off at the end than they were at the beginning.
2 Peter 2:22, 22 Of them the proverbs are true: "A dog returns to its vomit," and, "A sow that is washed returns to her wallowing in the mud."
Just like the cow who is tied down, we too are in the shackles of some temptation of this world. 1 Peter 4:3, 3 For you have spent enough time in the past doing what pagans choose to do—living in debauchery, lust, drunkenness, orgies, carousing and detestable idolatry.
Romans 12:2, 2 Do not conform to the pattern of this world, but be transformed by the renewing of your mind. Then you will be able to test and approve what God's will is—his good, pleasing and perfect will.
2 Corinthians 3:17, 17 Now the Lord is the Spirit, and where the Spirit of the Lord is, there is freedom.
2 Corinthians 5:21, 21 God made him who had no sin to be sin for us, so that in him we might become the righteousness of God.
Dear children of God, all these Bible verses teach us that through the crucifixion of the Son of God, we gained freedom. But when we sin again and again we lose this freedom through our own act of sin.
Ecclesiastes 8:11, 11 When the sentence for a crime is not quickly carried out, people's hearts are filled with schemes to do wrong.
But the Bible teaches us this also:
Ecclesiastes 11:9, 9 You who are young, be happy while you are young,
    and let your heart give you joy in the days of your youth.
Follow the ways of your heart
    and whatever your eyes see,
but know that for all these things
    God will bring you into judgment.